Premium Marine Leisure Complex

Haeundae IPARK

Haeundae IPARK has become a landmark of the beautiful international city, Busan, and it has also become a symbol of Haeundae, well known as the pride of the city. Hyundai Development Company collaborated with the international architect Daniel Libeskind for the mixed-use development project of "Haeundae IPARK."
Haeundae IPARK contributes to increasing recognition of Haeundae as a global resort destination, as well as raising the brand value of Busan.
Haeundae IPARK enables its residents to enjoy one-stop living
the complex provides spaces for living, working, and shopping.
The area boasts a great natural environment with a harmony
of water, wind, and sunshine, while simultaneously offering
culture, shopping, and tourist attractions for people's
enjoyment.
1,631

Households

Three buildings with
1,631 households

72

floors

View of Haeundae Beach

Multi-complex high-rise
with 72 floors and
a height of 298 m

511,805

㎡

Scale

Land area: 36,918 ㎡
Floor-area ratio: 899%
Total floor area: 511,805 ㎡
Located in U-dong, Haeundae-gu,
the golden coast of South Korea.
This charming, premium marine leisure complex, with its close proximity to Haeundae Beach, Dongbaekseom Island, BEXCO, the Yacht Marina Center, and tourist complex for marine sports, rivals other international resort areas.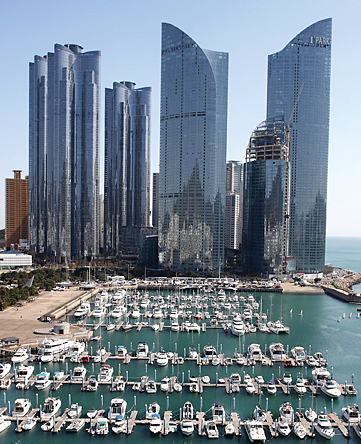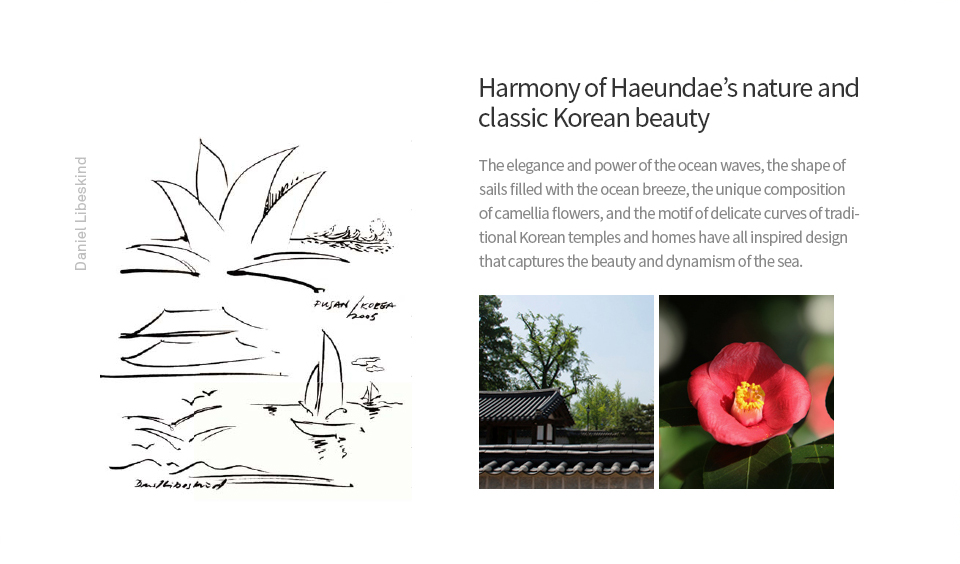 Sublimated space, a fantastic artistic experience
Peter Remedios, the world's premier luxury hotel designer, has created a dramatic space with a modern yet elegant interior that blends art and life.
Premium Design City

Suwon IPARK CITY

Each apartment building of Suwon IPARK CITY is a unique masterpiece with a motif inspired by elements of nature, such as forests, valleys, earth, and water. Suwon IPARK CITY provides a new urban lifestyle and an unparalleled, eco-friendly landscape with an island and two natural streams, laid out among apartment buildings and connecting the complex with the outside.
Suwon IPARK CITY was the first urban development project
led by a private enterprise in Suwon. The complex is the future
center of the areas around Gyeongbu Expressway connecting
Seoul, Suwon, and Dongtan. Through systematic planning
from design and construction to sales, it is being developed
as a green city of the future, with streams, parks, public and
commercial facilities, and residential space.
1,000,000

㎡

Scale

Premium city with massive
design covering a vast area
(approximately 1,000,000㎡)

6,500

Households

Total of 6,500 households
including detached houses,
townhouses, and multi-
family apartment buildings

60,000

㎡

Neighborhood parks

Spacious parks
including an ecological
park, lawn plaza ,water
park, sports park, etc.

2.5

km

Ecological streams

Two ecological streams
with various waterfront
facilities and rest areas
run through the complex
Artistic Facade Design
The artistic façades designed by the world-renowned architect Ben van Berkel are the symbol of Suwon IPARK CITY and have been deemed masterpieces. The five unique façade designs, each with their own color plan and nature-inspired motif, contribute to maximizing the characteristics of each building and the artistic harmony of the entire complex.
Park
Type

This façade presents a forest motif, featuring straight trees with lush branches.

Water
Type

This façade presents a motif of swirling valley streams, featuring aspects of smooth, dynamic vitality.

Village
Type

This façade presents a motif of traces of streams on the land, featuring the warmth and stability of the earth.

City
Type

This façade presents a motif of ripples from water droplets, featuring rhythmically changing patterns.

Field
Type

This façade presents a motif of four smoothly connecting horizontal lines, featuring a harmonious image of the sky.
45 Islands
Designed by world-renowned landscape architect Lodewijk Baljon,
the islands feature themed facilities, landscapes, and colors.
The communication space are specially designed for Suwon IPARK CITY.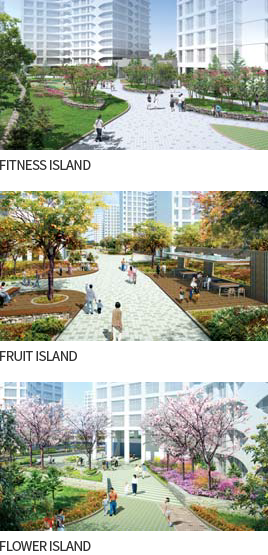 A New Milestone of Korean Baseball

Gocheok Sky Dome

The first domed baseball stadium in South Korea, Gocheok Sky Dome is a new hub for Korean baseball and a representative sports complex in Seoul. The project started with a half-domed design, but a complete domed stadium was built in the end thanks to the encouragement of baseball fans and support from the public.
1

st

Domed baseball
stadiumin Korea

First domed baseball
stadium in South Korea
opened in September 2015

365

days

Sports and
entertainment

A complete domed stadium
for various cultural and
sporting events regardless
of weather conditions

22,258

Spectator capacity

Stands with general
seating, table seats, seating
for the disabled, diamond
seats, skyboxes, etc.

67.59

m

Height

Five meters taller from
ceiling to ground than
the Tokyo Dome in
Japan
Dynamic wave
Dynamic Wave, a sculpture by artist Yu Young-joo that
presents a baseball motif with its main framework
inspired by the seams of a baseball, is installed in front
of the stadium.
Living Sports Facility
As there are commercial facilities on the basement floor, along with outdoor and indoor swimming pools, a gym, a football field, and a basketball court for residents and visitors as well as baseball fans, Gocheok Sky Dome has become a popular space for leisure in the southwest part of Seoul.
Silver Streamlined form Representing the Dynamics of a Baseball
The exterior of Gocheok Sky Dome, coming into view from a distance, resembles the appearance of a baseball rocketing forward just after being hit.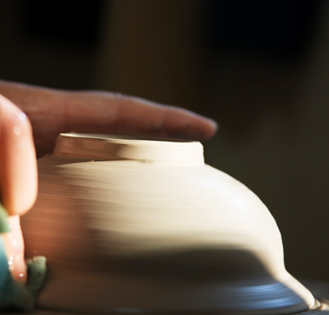 Smooth Curve of Traditional Ceramics
The beauty of the structure is derived from the smooth curve of traditional ceramics, symbolized
by a continuous wave pattern and an emphasis on the integration of the façade and the roof.
Center of New Waves
It acts as the center of a new wave of sports, culture, and leisure activities spreading from southwest Seoul to the rest of the city.
Futuristic Cutting-edge Domed Stadium Applying the Best Technology from Every Field
The air inside the stadium and inflowing air are purified by a filter and circulated by an air conditioning system in the upper levels, and a temperature of 26 °C to 28 °C in the summer season and 18 °C to 20 °C in the winter season is maintained so that the athletes can give their best performance and the spectators can enjoy the game in a pleasant and comfortable environment. Also, installed for the first time in the world, a transparent sound-insulating membrane in the roof blocks noise while letting in natural light.
Optimal Space for Sporting Events Focusing on the Safety of Both the Athletes and the Spectators
The stadium features excellent facilities built based on advice for the interior and overall design from a professional design company that has worked on several American sports stadiums.
Based on advice from a major league groundskeeper, the field of the stadium uses a high-quality artificial turf that is most similar to natural turf, as well as being the same turf used for major league fields. Also, the fences are made thicker so that the players can fully focus on the game.
Gateway of Busan Harbor

Busan Harbor Bridge

Busan Harbor Bridge, the last bridge section of Busan Harbor, serves as a landmark of Busan and a representative longspan bridge of South Korea.
With its steel-composite, cable-stayed construction for withstanding strong winds, the bridge's advanced design and cutting-edge technology are a testament to Hyundai Development Company's civil engineering prowess.
The Busan Harbor Bridge was constructed to a total length of 3,331m, including the 1,114m steel-composite cable-stayed
bridge and the connecting road. Two pylons 190 meters in height are installed 540 meters apart to support the bridge deck.
As the height from sea level to the bridge is 60 meters, large ships of over 80,000 tons are able to pass under it.
A superior safety level is the pride of Busan Harbor Bridge, which was built using advanced technology and construction
methods, such as a first-class earthquake-resistant design, diamond-type pylons, special cables with narrow diameter,
and fairing that induces air flow.​
3,331

m

Length

Longspan bridge, connecting
Cheonghak-dong, Yeongdo-gu,
and Gamman-dong,
Nam-gu, in Busan

18.6~25.6

m

Width

The longest steel-composite,
cable-stayed
bridge in South Korea, with
six lanes in two directions

60

m

Navigable Height

Allows large 80,000-ton
ships to pass under the
bridge

First-class Earthquake-resistant
Design

With first-class earthquake
resistance, the bridge can
withstand a 6.5-magnitude
earthquake
Beautiful Night View,
a Landmark of Busan
Busan Harbor Bridge brightens the city with its splendid light
and has become as popular a place to appreciate the gorgeous
night view as Gwangandaegyo Bridge.
Design of
Diamond-type Pylons
Pylons with 160 cables supporting the bridge deck are designed in
a diamond shape in order to withstand strong winds.
In addition, specially designed cables (PWS) were applied to reduce the section
exposed to the wind; as a result, the wind load is reduced up to 25%.
Won the 2014 Masterpiece Award
of Korea Concrete Institute
The Masterpiece Award of Korea Concrete Institute is given to
the structure that receives credit for excellence in the
architectural and civil-engineering industries after evaluation of
the structure's aesthetics, design, and construction.

Diamond-type pylons are specially formulated for structural
efficiency and lightness. In the construction process for the
pylons of Busan Harbor Bridge, the automatic climbing
formwork (ACF) system was used, which allows the molds to
climb automatically without being separated. This also
increases the quality and safety of the construction
furthermore, the layout of the cables is also well-designed.