Mission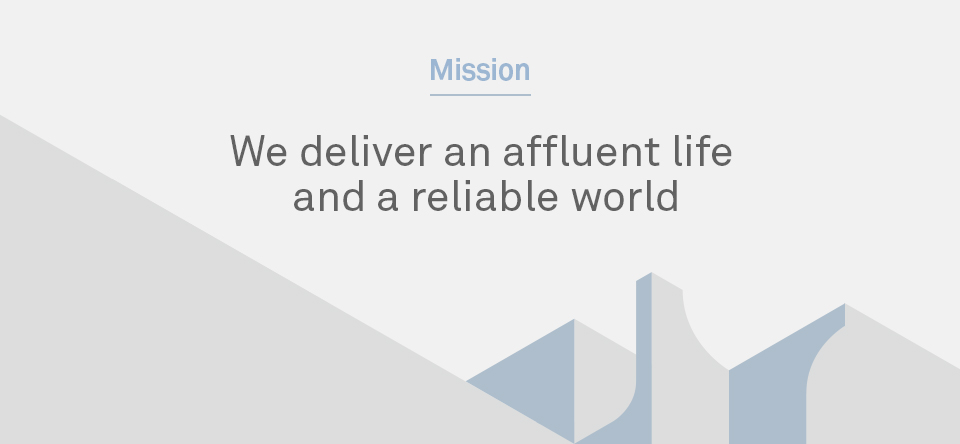 Core Values
01

Management of Principle

We think and act properly,
in accordance with ethical principles.

Clearly understanding and adhering to promises
Maintaining transparency in all processes and pursuing precise outcomes
Being honest and trustworthy in all things

02

EXECUTION

We make systematic plans and
implement them thoroughly. 

Making precise and concrete plans for success
Achieving all our goals with indomitable willpower
Challenging ourselves relentlessly by learning from the outcomes of past undertakings

03

Innovation

We are at the forefront
of constant change.

Keeping an eye on the changes of the world: to broaden our horizons
Questioning pre-existing methods
Being flexible and staying one step ahead

04

Originality

We lead the world with
what makes us unique.

Competing with others in creative ways
Exceeding expectations but never limiting our prospects
Never making judgments based only on conventional notions: to acclaim creativity

05

Customers are
the reason we exist.

To make concrete plans and
thoroughly comply with them

Deriving our value from the happiness of our customers
Seeing and feeling everything from our customers' perspective
Ensuring that every employee relates to our customers

06

Insight

From a broader perspective,
we seek balance and harmony.

Respecting diversity and being considerate when interacting with people
Combining various abilities of members of the group to carry out plans
Practicing social responsibility and growing with the community

07

Passion

Passion is behind everything we do.
Slogan
Our slogan expresses that our vision is to pursue not only materialistic achievements but also diverse enrichment of life.
It also presents the conviction of all of HDC Hyundai Development Company members to pursue the mission of
"a world of prosperity and trust."